REITSCHULE FEST 2018 - NATTALI RIZE
Price starting at CHF 26.00
Get tickets
31 Jahre Reitschule Bern

Reitschule Führungen:

Dachstock (doors 22:00):
NATTALI RIZE
CHRIS DUBFLOW & THE HORNS OF ZION
ZUNAMI

Sous Le Pont :
Progrmm (tba)

Frauenraum:
Progrmm (tba)

tojo:
Progrmm (tba)

Infoladen:
Progrmm (tba)

Grosse Halle:
Progrmm (tba)
Organized by: Dachstock
Oct. 26, 2018
Dachstock – Bern
Doors open at:
22:00
Concert starts at:
23:00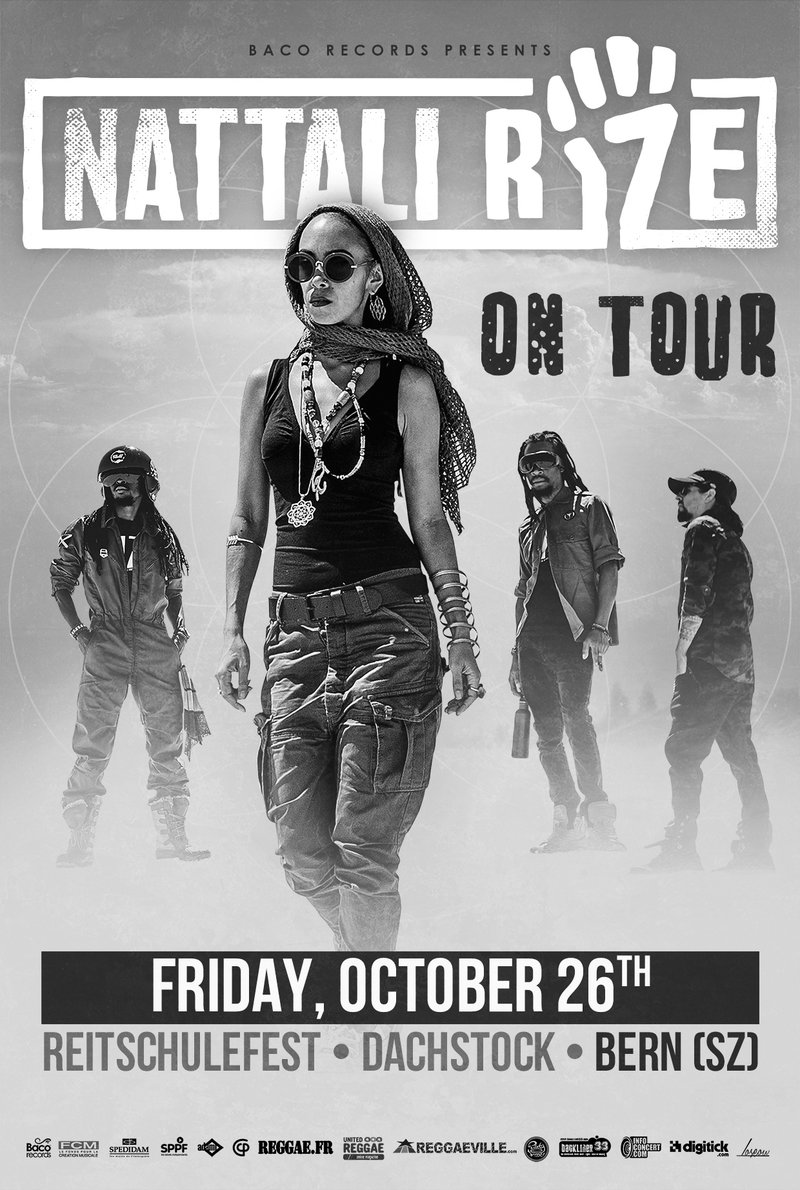 NATTALI RIZE
NATTALI RIZE is one of the few women who manage to be famous in the very exclusive reggae world. A huge talent for live shows and her very special voice had seduced Jamaican producers. Her talent and unique personality made her the new flavour of the moment in the Caribbean island. She quickly met with the greatest there and produced her first album solo REBEL FREQUENCY (released in March 2017) with NOTIS (Jimmy Cliff, Tarrus Riley ...) which contains nice featuring with JULIAN MARLEY, KABAKA PYRAMID and many more. Recorded in the mythic Tuff Gong studios with all the Jamaican new generation this album is an additional jewel into the new roots movement with rock influences and the NATTALI RIZE contagious energy. Accompanied by three former musicians from Jimmy Cliff's band she had played on the biggest European festivals (Summerjam 2016 et 2017, Paléo Festival 2016, California Roots 2017, Rototom Sunsplash 2017, Boomtown Festival 2017, Uprising Festival 2017, Uppsala Reggae Festival 2017, No Logo Festival 2017......) and many venues all over the world: Australia, USA, Japan, Canada, Germany, France, Italy, Spain, Sweden, Poland, Slovakia, New Zealand, Czech Republic, Switzerland and The Netherlands ... After European spring and summer tour to present REBEL FREQUENCY, NATTALI RIZE will be back in 2018 to prolong the pleasure and make us wait until her next album.
Visit NATTALI RIZE's official website
CHRIS DUBFLOW & THE HORNS OF ZION
Chris Dubflow & the Horns of Zion ist die neuste Live Dub Performance von Chris Dubflow mit der Zugposaunenspielerin Josephine und dem Trompetenspieler Dominique. Angefangen als Schlagzeuger spielte er sich in diversen Reggae Bands durch die 80iger. Längere und intensive Aufenthalte in Jamaica vertieften seine Erfahrungen in Reggae, Dub und der jamaicanischen Musikkultur. Dann kamen die 90er Jahre. Da kaufte er sich seine erste MPC und begann damit selber Dub zu produzieren und zu experimentieren. Er spielte unter verschiedenen Namen Live Dub Projekte und schaffte es schliesslich mit Chris Dubflow nach England, Polen, Deutschland und in der Schweiz zu spielen. Die Kollaboration mit Paul St. Hilare (Tikiman) setzte einen Höhepunkt mit dem Deep Dub Tune "Rub a Dub construct". Weitere Tunes gibt es mit Saralène, Bigga Baloo, Monya und Triptease. Er spielte als Support für Zion Train, wie auch das after Live Dub Set für Panda Dub in der französischen Schweiz. Seit 2018 gibt es nun auch "Chris Dubflow & Horns Zion". Die Ergänzung von Live Dub mit einer Hornsection. Das war schon lange ein Traum. Also zog er sich 2017 ins Studio zurück und komponierte und arrangierte die Bläsersätze dazu. Live umgesetzt bringen die Horns of Zion zusammen mit Chris Dubflow eine echt lebhafte Dynamik auf die Bühne. Aber auch solo, mit Mc oder Sängerin ist Chris Dubflow aktiv. Dub war schon immer eine art Open-source. Das darf auch gerne so bleiben. Wer offen ist, liebt die Vielfalt. Chris Dubflow spielt mit der Vielfalt.
Visit CHRIS DUBFLOW & THE HORNS OF ZION's official website
ZUNAMI
Zunamis Liebe zum Bass wächst aus ihrer Beziehung zum Techno der 90er. Heute diggt sie gerne in Great Britain oder Berlin nach dem freshesten Sound aus Dubstep, Trap, Electro und Dancehall. Zu hören gibts das in ihren Mixes für Bassmusik oder Comfortnoise und jetzt endlich mal wieder ausgedehnt bei uns. Alles Bässtens all night long also. Mit Foundation Dubstep, Bass Music & Future Dancehall.
Visit ZUNAMI's official website