Lausanne Méditerranées - Liban : Rust / Blu Fiefer / Khansa
Price starting at CHF 20.00
Get tickets
Fin des préventes : 19h15 le jour du concert. Selon disponibilité, des billets sont en vente au prix de la caisse du soir à 25 chf.
Age minimum : 16 ans ou accompagné d'un représentant légal.
________

Soirée présentée dans le cadre de Lausanne Méditerranées, une proposition de la Ville de Lausanne
Unique date suisse !

-

An evening presented as part of Lausanne Méditerranées, an initiative of the City of Lausanne
Only Swiss show!
Thursday 5 October 2023
Les Docks – Lausanne
Doors open at:
20:00
Event starts at:
20:30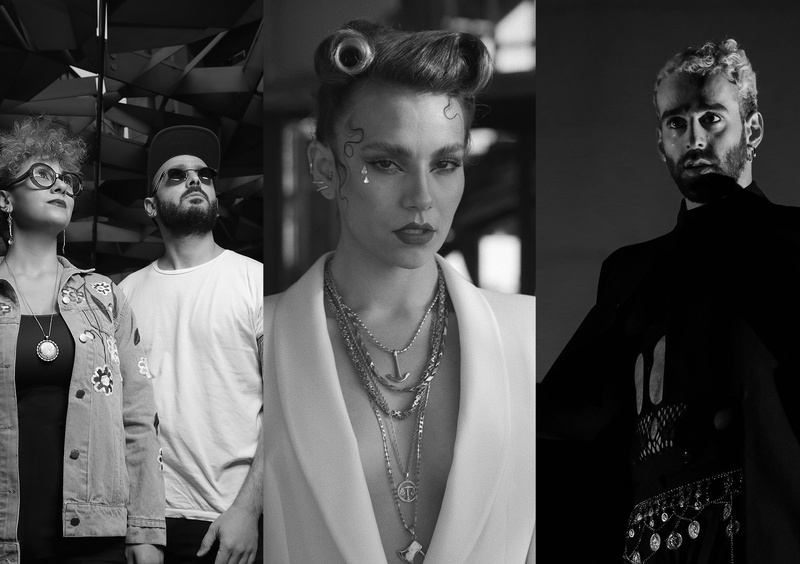 RUST (LB)
S'inspirer des musiques traditionnelles arabes et leur insuffler un souffle contemporain, voici le pari que s'est donné Rust. En les écoutant, on redécouvre ces mélodies sinueuses et vibrantes sous un autre angle : les percussions, souvent électroniques, se marient à des voix insistantes passées dans plusieurs filtres. La fusion fonctionne à merveille. Le pari – réussi – du duo s'inscrit dans une nouvelle génération audacieuse et prometteuse.

-

Rust's challenge is to take traditional Arab music and breathe contemporary life into it. Listening to them, you rediscover these sinuous, vibrant melodies from a different angle: percussion, often electronic, blends with insistent vocals passed through several filters. The fusion works like a charm. The duo's challenge - a successful one - is part of a bold and promising new generation.
Visit RUST (LB)'s official website
BLU FIEFER (LB)
Blu Fiefer est une artiste et productrice libano-mexicaine utilisant le pole dance et le hip-hop pour clamer haut et fort l'importance de la liberté d'expression. Dans ses textes, espagnol, anglais et arabe se mélangent comme pour appuyer la pluralité des inspirations et renforcer le sentiment de communauté. Blu innove pour faire parler, réfléchir, secouer. Autrement dit, c'est une figure forte de la scène hip-hop arabe à ne pas manquer.

-

Blu Fiefer is a Lebanese-Mexican artist and producer who uses pole dance and hip-hop to make a strong statement about the importance of freedom of expression. In her lyrics, Spanish, English and Arabic are blended to support the plurality of inspirations and reinforce the sense of community. Blu innovates to make people talk, think and shake things up. In other words, she's one of the leading figures on the Arab hip-hop scene who shouldn't be missed.
Visit BLU FIEFER (LB)'s official website
KHANSA (LB)
C'est par la danse et le chant que Khansa donne un autre visage aux sons du Moyen-Orient. Twistés, ces derniers sont électrifiés dans un mélange electro-pop sensuel et sensible détruisant sur son passage une flopée de stéréotypes. L'artiste reconstruit le concept de masculinité dans des performances où le corps, paré et sublimé, s'élève parfois dans les airs : comme pour reprendre le dessus, envers et contre tout.

-

Through dance and song, Khansa puts a different face on Middle Eastern sounds. Twisted, they are electrified into a sensual and sensitive electro-pop mix that destroys a host of stereotypes in its path. The artist reconstructs the concept of masculinity in performances where the body, adorned and sublimated, sometimes soars into the air: as if to regain the upper hand, against all odds.
Visit KHANSA (LB)'s official website