THE PUNK'N ROLL SHOW 2.0 | LOST LOVE (CA) + FLUFFY MACHINE (CH) + ATHLETE (CH)
Price starting at CHF 9.00
Get tickets
C'est le grand retour des Punk'n Roll au Groove ! Viens passer une soirée de pure 𝙋𝙐𝙉𝙆 𝙍𝙊𝘾𝙆 avec une line up énervée qui ravira les aficionados de musique rapide et électrisante ! 🤘🏻🎸

Tu trouveras aussi un stand TranZport où il sera possible de découvrir l'art deck, discipline consistant à dessiner et customiser le dessous d'une planche, en compagnie d'un artiste 🛹🎨

Et pour remplir les estomacs, de délicieux burgers vegan seront en vente devant le Groove 🍔

L'achat d'une préloc en ligne te donne automatiquement accès au tirage au sort pour gagner des lots offerts par le shop Blue Tomato 🎁

LINE UP
⚡️ Lost Love /// 𝑀𝑜𝑛𝑡𝑟𝑒́𝑎𝑙 (𝑇'𝑎𝑠 𝑏𝑖𝑒𝑛 𝑙𝑢 𝑡𝑎𝑏𝑒𝑟𝑛𝑎𝑐𝑙𝑒!) 🇨🇦
⚡️ Athlete /// 𝑆𝑎𝑙𝑎𝑣𝑎𝑢𝑥 𝐶𝑖𝑡𝑦 🇨🇭
⚡️ Fluffy Machine /// 𝑅𝑎𝑐𝑙𝑒𝑡𝑡𝑒𝑙𝑎𝑛𝑑 🇨🇭

INFORMATIONS PRATIQUES
🕘 20h00 - 01h00
💧 Bar
🍔 Burgers vegan
🎁 Nombreux lots à gagner
🛹 Stand skate by TranZport
👶🏻 Tous âges
📍 9 Rue des Gazomètres, 1205 Genève
Friday 16 June 2023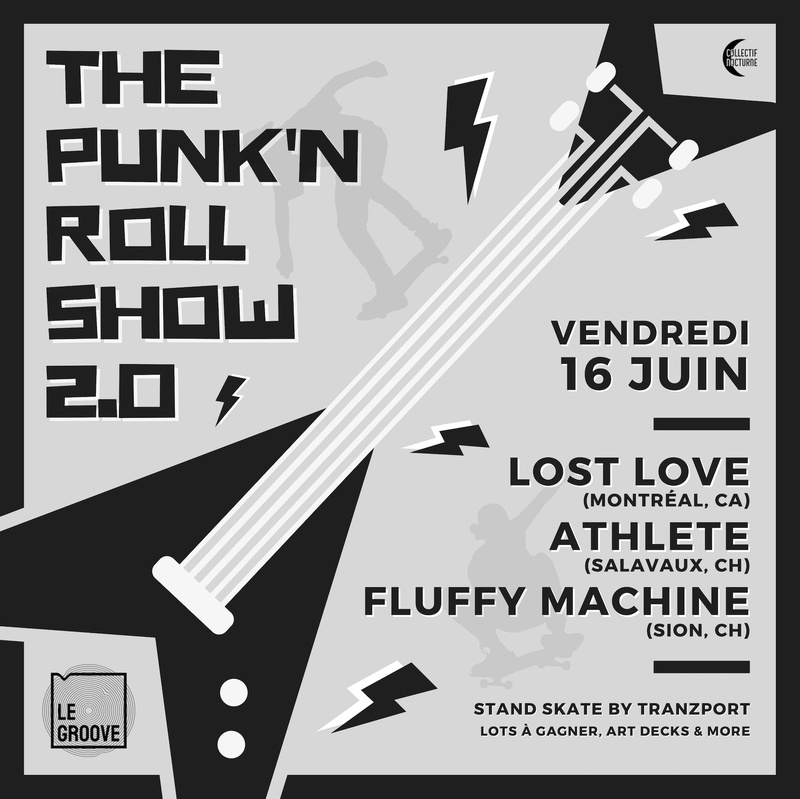 Lost Love
Founded in 2013, Lost Love is a melodic pop punk band from Montreal, characterized by their catchy choruses and eternal optimism. To date, the band has played over 350 shows in more than 15 countries across Europe and North America, earning new fans with their unique sound. On their fourth full-length album, Empathy, Lost Love takes everything they've learned over the last 8 years and ups the ante by adding a sense of urgency to their sound. Change is in the very DNA of Lost Love. They never stop evolving. But right from the opening chord of a song or album, you instantly know it's them.
Visit Lost Love's official website
ATHLETE
Créé en 2020, ATHLETE est formé par des ex de Rebel Assholes (FR) et de Paprika Disco (CH) qui ont déjà bien parcouru la scène punk rock depuis de nombreuses années. Tendue, mélancolique mais aussi quelques peu agressive et pop, leur musique est influencée par de nombreux groupes aux sonorités différentes, tels que : Dead To Me, Hot Water Music, The Thermals ou encore Sport. Un premier EP enregistré, mixé et masterisé par Indie Ear Studio et sobrement intitulé "ATHLETE" sort en mars 2022 chez Fireflies Fall (FR), La Escalera Records (USA), Real Ghost Records (UK), Productions Impossible (FR), DMB Records (CH) et AEM Project (BE).
Visit ATHLETE's official website
FLUFFY MACHINE
Au cours des 5 dernières années, Fluffy Machine a parcouru l'Europe et s'est forgé une petite réputation dans la scène punk rock. En 2019, ils ont enregistré leur premier album qui explore le skate punk californien. Cependant pour leur nouvel album sorti en 2021, Fluffy Machine a récupéré des influences australiennes et anglaises de groupes comme Clowns ou IDLES donnant au groupe une nouvelle dose fraîche d'intensité estivale. Résultat: le cocktail parfait pour un moshpit lors d'une pool party.
Visit FLUFFY MACHINE's official website