Strom & Drang Festival
LINEUP: TEMMIS (DE), HARVEY RUSHMORE & THE OCTOPUS (CH), NICE BISCUIT (AUS), BABY COOL (AUS), PENKOWSKI (CH), 400TIGERS (CH), MORD FUZZTANG (CH), STOPH BJORNSON (CH) & MORE TO COME!

"Strom & Drang", der Titel ist Programm. Ein Wochenende im KIFF voller elektrifizierter und elektrifizierender Musik, die mehr will, als nur unterhalten. Denn während der Mainstream der Gefälligkeit fröhnt, rumort und rumpelt es im ungezähmten Underground. Ekstase trifft auf Dringlichkeit und Psych Rock auf Post Punk und Garage auf Wave.

"Strom & Drang" sucht nach dem Neuen und bietet den Soundtrack zu einer Welt, aus der man entweder flüchten oder sie zertrümmern will. Und wenn beides grad nicht klappt? Dann bleibt immerhin noch das Tanzen.
Friday 19 May 2023 - Saturday 20 May 2023
Organized by: KiFF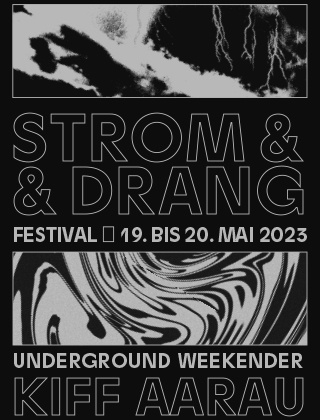 Strom & Drang Festival
KiFF
Strom & Drang Festival
KiFF