B-SIDES FESTIVAL 2023
Price starting at CHF 17.00
Get tickets
Das B-Sides Festival findet vom 15. - 17. Juni 2023 auf dem Sonnenberg in Kriens statt.

°°° DO °°°
Andrina Bollinger, Baby Volcano, Batbait, Buried Alive, Café Complet, Dalai Puma & HSLU Big Band present: Das gerupfte Planted Chicken an Himbeersauce Orchester, essential oil, Frederik, Japanese Breakfast, MILYMA, Rico TK & The Mystic Delights und Obertonstruktur der Kaulquappe

°°° FR °°°
Alban Schelbert & Simeon Sigg, Anouchka Gwen, Chewlie, COUCOU CHLOE, Film 2, HHY & The Kampala Unit, Lakiko, Monte Mai, North Naim, NVST (DJ Set), Orange Peel Agency DJ Set, Pet Owner, Rachika Nayar, Sun Cousto, Zebra Katz, Alice, Obertonstruktur der Kaulquappe und Ophelia's Iron Vest

°°° SA °°°
Aïsha Devi, Amami, Billie Bird, Brother May, Coilguns, Cumgirl8, Elfrid the Third & Ivan Eyes, Junge Eko, KUMARI b2b AKUAKU (DJ Set), Les Reines Prochaines, Haya33, Mika Oki (DJ Set), Okay Kaya, Yet No Yokai, Alice und Ophelia's Iron Vest

°°° FAM. °°°
ELRITSCHI, Helvetiarockt Music Lab, «Klanglabor» mit Simon Wunderlin, Pfasyl, Triplette spielt «Mona» und 3FACH Radio Workshop


Tickets fürs Familienprogramm sind zwischen 11:00 - 18:00 Uhr gültig und können auch gekauft werden, wenn der Festival-Samstag ausverkauft ist. Der Eintritt für Kinder bis und mit 11 Jahren ist kostenlos.

—

°° Cashless °°
Auch 2023 wird das B-Sides Cashless durchgeführt. Alle Infos und das Login sind auf der Website (www.b-sides.ch) zu finden.

°° Infos °°
Der Soli-Franken wird dieses Jahr an Education for Integration gespendet.

Alle weiteren Infos sind auf der Website zu finden.
Thursday 15 June 2023 - Saturday 17 June 2023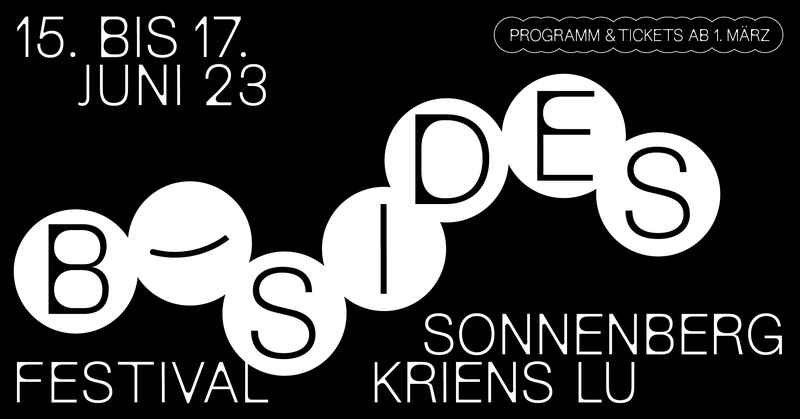 Donnerstag
B-Sides Festival
Familienprogramm
B-Sides Festival