OvO - Body Void - Invouta
Le duo italien de Noise-Rock OvO a sorti un nouvel album "Ignoto" en septembre 2022 et sera sur la route avec le trio américain de Hardcore-Punk & Doom Body Void, qui vient de sortir son dernier EP "Burn The Homes Of Those Who Seek To Control Our Bodies" (08/2022) et sortira un nouvel album avant la tournée en 2023. En ouverture, nous aurons le plaisir d'accueillir les Fribourgeois d'Invouta et leur sludge métal écrasant, crié en Français.

20h30 : Ouverture des portes
21h00 : Invouta
22h00 : Body Void
23h00 : OvO
02h00 : Fermeture des portes

Fermeture de la billetterie : 1h00 avant l'ouverture des portes.
Friday 7 April 2023
Caves du Manoir – Martigny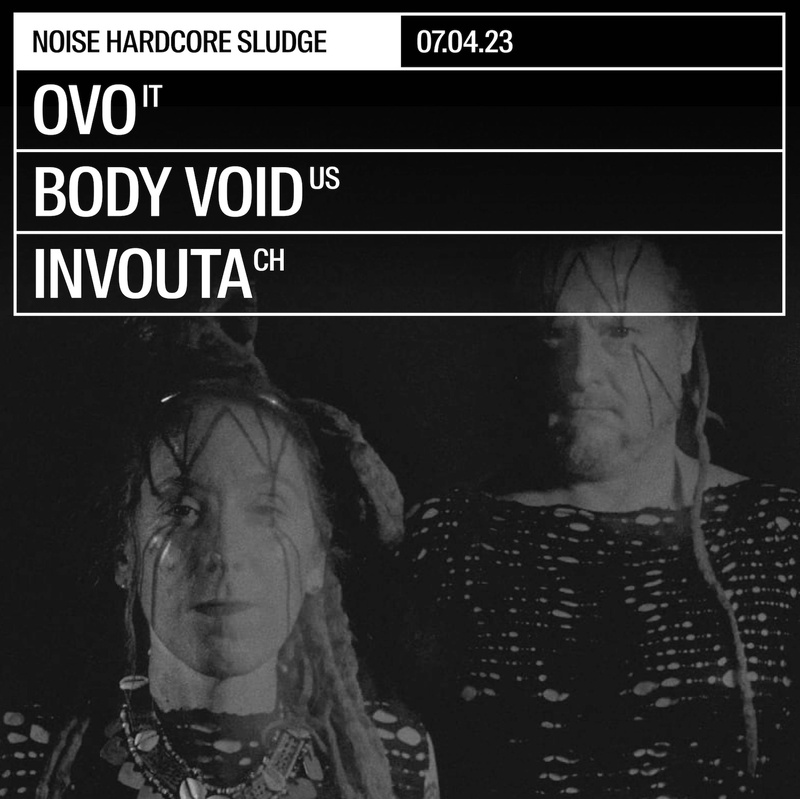 OvO - IT - Noise Rock
OvO est au centre de la scène mondiale du Post-Rock, de l'Industrial-Sludge et de l'Avant-Doom depuis deux décennies. OvO apporte des éléments noirs au premier plan d'un canevas bruyant avec des bases sinistres de drone. Comme la bande-son de vos peurs les plus profondes, Ignoto est un album à la fois profond et troublant.
Visit OvO - IT - Noise Rock's official website
INVOUTA - CH - Sludge Metal
Invouta: mot patoi fribourgeois qui veut dire envoûté.
Formé en 2016 par des anciens de la scène metal fribourgeoise, Invouta a sorti 2 albums - Ainsi Soit-Il (2019) - et - L'Appel De La Corde (2019) - sous le label Hexerei Records (fribourgeois lui aussi).
Après des changements de lineup et le LP – Face à Face – sorti en 2020 malgré plusieurs vernissages annulés en raison du Covid, Invouta sont de retour avec Zito, Greg et Roby qui nous ont préparé un nouvel album pour 2023.
Visit INVOUTA - CH - Sludge Metal's official website