ROAD HELL ROAD RECORDS NIGHT
Le label suisse indépendant de garage - punk - stoner - punk hardcore investit le Port Franc !

10.-
Gratuit avec l'AG Culturel et le Pass Bienvenue. Les détenteurs de ces cartes DOIVENT réserver.

Navettes gratuites :
Gare - Place du midi - Port Franc
Organized by: Le Port Franc
MYSTIC SONS (VS)
Road Hell Road Records, c'est le bébé punk rock issu du label valaisan Road Sweet Road. Les Mystic Sons, basés à Martigny, ont été les premiers à signer sous ce label. En tête d'affiche pour cette soirée spéciale au Port Franc, le trio composé de Thomas, Florian et Thibaud ensorcellera la foule avec leur dernier album « Curses and Spell ». La potion magique de ces sorciers du son ? Un savant mélange de Blues, Stoner et Desert Rock, une pincée de Heavy Rock, ajoutez-y quelques gouttes de Grunge et vous serez transporté.e.s dans un sublime voyage psychédélique à travers le désert californien. L'occasion rêvée de secouer votre belle chevelure en rythme !
Visit MYSTIC SONS (VS)'s official website
Marie-Antoinette & The Last Drop (VS)
Tout nouveau, tout beau, leur premier album est sorti en mars 2022. Après s'être isolés en studio pour enregistrer ce premier bébé, ils ont hâte d'expérimenter leurs sons sur le public et de transmettre à la foule toute cette énergie canalisée. Tout comme la reine déchue, les acolytes de Marie-Antoinette ont déjà perdu la tête et ne manqueront pas de faire secouer la vôtre au rythme de leurs riffs aiguisés.
Visit Marie-Antoinette & The Last Drop (VS)'s official website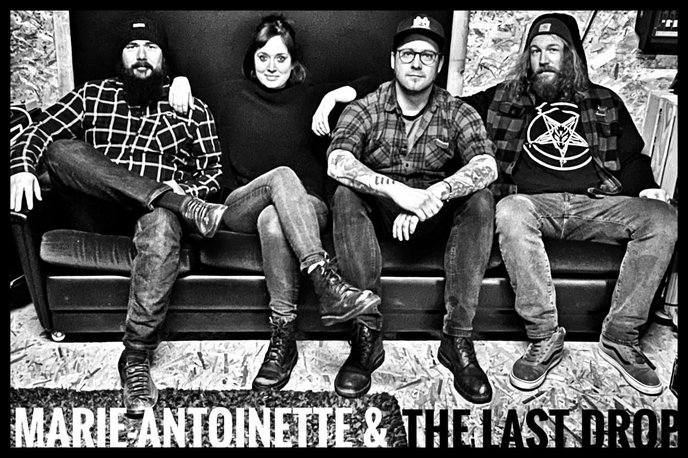 Burning Pussy & Iron Beard (VS)
Du hard/psych/fuzz/kraut/proto/prog/stoner/doom des années 70s et des classiques de maintenant. ROCK !