Harakiri For The Sky - Schammasch - Groza
Price starting at CHF 25.00
Get tickets
Après plusieurs reports, nous croisons les doigts pour que celle-ci soit la bonne. Harakiri For The Sky seront de passage aux Caves du Manoir avec plein de nouveautés dans leurs valises. Ils viendront défendre leurs deux premiers albums réenregistrés en 2022 et sortis en décembre dernier ainsi que leur dernier album en date - Mӕre - sorti en 2021. Schammasch et Groza se chargeront d'ouvrir les hostilités. Une soirée résolument immanquable pour tous les adeptes de black métal.

19h00 : Ouverture des portes
19h30 : Groza
20h35 : Schammasch
21h55 : Harakiri For The Sky
01h00 : Fermeture des portes

Fermeture de la billetterie : 1h00 avant l'ouverture des portes.
Thursday 9 February 2023
Caves du Manoir – Martigny
Doors open at:
19:00
Event starts at:
19:00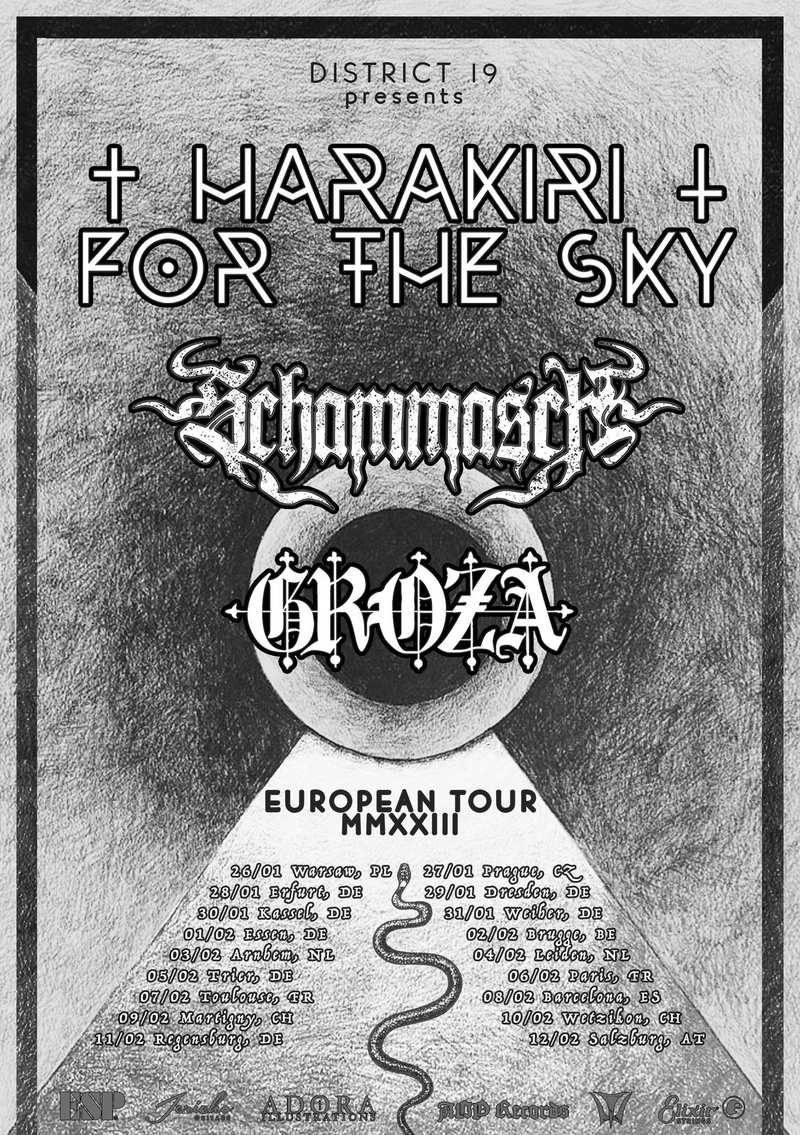 Harakiri For The Sky - AUT - Post Black Metal
Fondé en 2011 à Vienne, en Autriche, Harakiri for the sky a toujours eu pour but de créer un mélange unique de mélancolie et d'agression, de folie et de sens, le tout enrobé dans des chansons alternativement maniaques et douces qui font le pont entre le black metal et le post-rock atmosphérique.
Visit Harakiri For The Sky - AUT - Post Black Metal's official website
Schammasch - CH – Black Metal
Situé à Bâle, en Suisse, Schammasch a été créé en 2009 (Schammasch signifie Šamaš, le dieu du soleil de la mythologie akkadienne / babylonienne). Peu attentifs à la question du genre depuis leur création, les membres du groupe considèrent leur travail actuel comme ce qu'il y a de plus significatif sur le plan artistique, bien que leurs racines se trouvent dans le black metal avant-gardiste tout en trouvant un équilibre entre un mélange pointu d'atmosphères sombres, de doom et de mysticisme hermétique.
Visit Schammasch - CH – Black Metal's official website
Groza - DE - Black Metal
Alors que le monde reste immobile, paralysé et engourdi par la peur, le collectif allemand de black metal GROZA brise le silence assourdissant pour dévoiler son deuxième album complet "The Redemptive End" - capturant l'atmosphère dévastatrice de l'époque du désespoir et de la résignation les plus extrêmes.
Fondé comme un projet solo par le chanteur / guitariste P.G. en 2016, le groupe s'est développé vers une formation complète au cours des deux années suivantes, aboutissant à la naissance de leur premier effort - "Unified In Void" (2018).
Visit Groza - DE - Black Metal's official website