AFTERLIFE @ GANNET
AFTERLIFE is a dance for anyone who has ever loved someone, lost someone or lived on after loss. Massive beats. Ecstatic physicality. Erotic intimacy. Sudden death.
Beginning on the banks of the Rhein River when a motorcycle pulls up, the audience is pulled into Gannet's inner chambers for an endless club night. Based on real events, AFTERLIFE is about the spark that connects equals, the stamina and risk of love, and how everything can change in an instant.

AFTERLIFE is an immersive dance performance with live DJs by SNOW productions (Lillian Stillwell & Tom Ryser). The 100% local Basel cast features dancers Aline Serrano and Mukdankin Phongpachith as soulmates whose happy end never comes and DJ duo Schwifi (Ada Fischer, Sophia Schwager) as the modern-day Greek Chorus driving this tragic love story.

Duration:
60 minutes. Afterparty after the last show (6.11.21) with DJ Chau Fiak (Sebastian Day).

_Doors: 19:00
_Performance: 20:00

Cast & Creative Team:
AFTERLIFE, a SNOW Production
Choreography & Co-Artistic Direction: Lillian Stillwell
Co-Artistic Direction: Tom Ryser
Dance: Aline Serrano & Mukdanin Phongpachith
Music: DJ Duo Schwifi (Ada Fischer & Sophia Schwager)
Dramaturgy: Anne Schöfer

!!WICHTIG!!
-Zutritt nur mit COVID-Zertifikat
-du musst also geimpft, genesen oder getestet sein
-Mögliche Tests: Antigen-Schnelltest (48h gültig), PCR Test (72h gültig)
-Selbsttests sind nicht gültig
!!WICHTIG!!
Thursday 4 November 2021 - Saturday 6 November 2021
Organized by: GANNET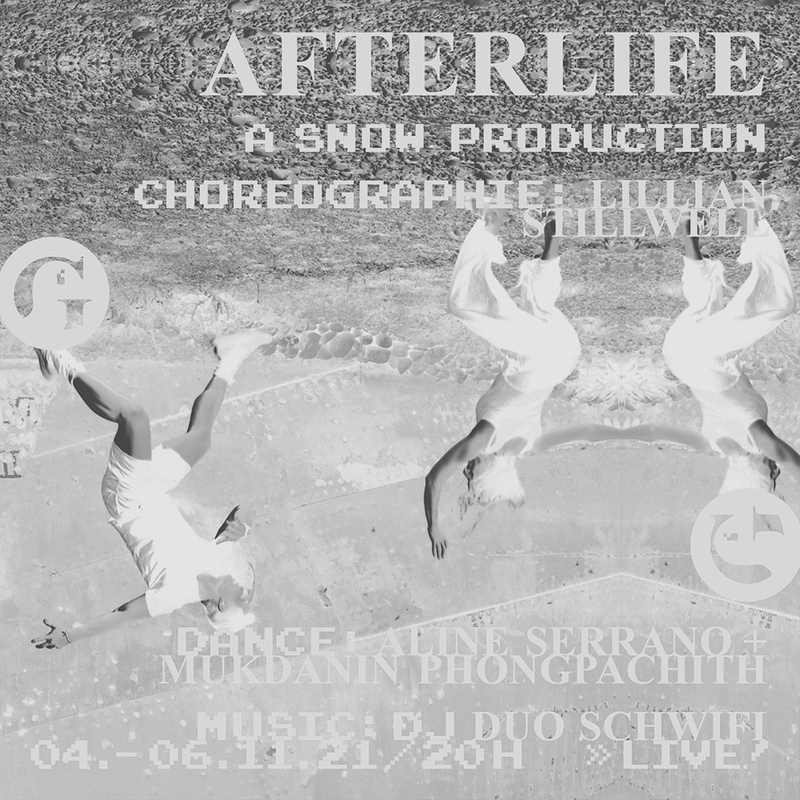 AFTERLIFE @ GANNET Day 1
GANNET
Lillian Stillwell, Tom Ryser, Aline Serrano, Mukdanin Phongpachith, Duo Schwifi, Anne Schöfer
AFTERLIFE, a SNOW Production

Choreography & Co-Artistic Direction: Lillian Stillwell
Co-Artistic Direction: Tom Ryser
Dance: Aline Serrano & Mukdanin Phongpachith
Music: DJ Duo Schwifi (Ada Fischer & Sophia Schwager) Dramaturgy: Anne Schöfer
Visit Lillian Stillwell, Tom Ryser, Aline Serrano, Mukdanin Phongpachith, Duo Schwifi, Anne Schöfer's official website
AFTERLIFE @ GANNET DAY 2
GANNET
Lillian Stillwell, Tom Ryser, Aline Serrano, Mukdanin Phongpachith, Duo Schwifi, Anne Schöfer
AFTERLIFE, a SNOW Production

Choreography & Co-Artistic Direction: Lillian Stillwell
Co-Artistic Direction: Tom Ryser
Dance: Aline Serrano & Mukdanin Phongpachith
Music: DJ Duo Schwifi (Ada Fischer & Sophia Schwager)
Dramaturgy: Anne Schöfer
Visit Lillian Stillwell, Tom Ryser, Aline Serrano, Mukdanin Phongpachith, Duo Schwifi, Anne Schöfer's official website
AFTERLIFE @ GANNET DAY 3
GANNET
LILLIAN STILLWELL, TOM RYSER, ALINE SERRANO, MUKDANIN PHONGPACHITH, DUO SCHWIFI, ANNE SCHÖFER
AFTERLIFE, a SNOW Production

Choreography & Co-Artistic Direction: Lillian Stillwell
Co-Artistic Direction: Tom Ryser
Dance: Aline Serrano & Mukdanin Phongpachith
Music: DJ Duo Schwifi (Ada Fischer & Sophia Schwager)
Dramaturgy: Anne Schöfer
Visit LILLIAN STILLWELL, TOM RYSER, ALINE SERRANO, MUKDANIN PHONGPACHITH, DUO SCHWIFI, ANNE SCHÖFER's official website