SCHEIBENKLEISTER / WATERGATE NIGHT
JAMIIE (WATERGATE / BERLIN)
RUEDE HAGELSTEIN LIVE (WATERGATE / BERLIN)
HYENAH (WATERGATE REC., FREERANGE REC. / BERLIN)


Scheibenkleister! Im Dachstock! Damit ist mitnichten das weitläufig als verhülltes Schimpfwort bekannte Determinativkompositum gemeint, sondern die, wie der gute alte Kleister verbindende Tanzreihe zu elektronischen Klängen ferner Gäste auf dem Dancefloor des bezauberndsten Dachgewölbe Berns.

Für die bevorstehende Ausgabe des freudigen Raves, thronen gleich drei wohlklingende Namen aus Berlin vom Festprogramm: RUEDE HAGELSTEIN (live) -Tausendsassa, lebende Legende, Produzent, Sänger & natürlich Live-Act – in letzter Funktion wird er auch die Bühne im Dachstock betreten und mit seiner Performance die tanzenden Scharen in seinen Bann ziehen. Dazu gesellt sich JAMIIE – eine Künstlerin, die ihre nigerianisch-deutschen Wurzeln in ihrer Musik wiedergibt und dafür bekannt ist, den afrikanischen Groove und Spirit in Perfektion ihren House-Sets einzubauen. Last but not least dürfen sich die Gäste im Stock auf THE HYENAH freuen – wie auch JAMIIE gehört THE HYENAH dem RISE-Kollektiv an, dass zum Markenzeichen die Verbindung afrikanischer Elemente mit klassischer House-Musik hat. Ein Urgestein gekoppelt mit aufstrebenden Künstler*innen und einer guten Portion Einflüsse aus dem heissen Kontinent vereinen sich fürs Watergate Showcase im Rahmen des guten alten Scheibenkleisters – auf zum Tanz! (txt: ddd)
Saturday 18 January 2020
Dachstock – Bern
Doors open at:
23:00
Event starts at:
23:00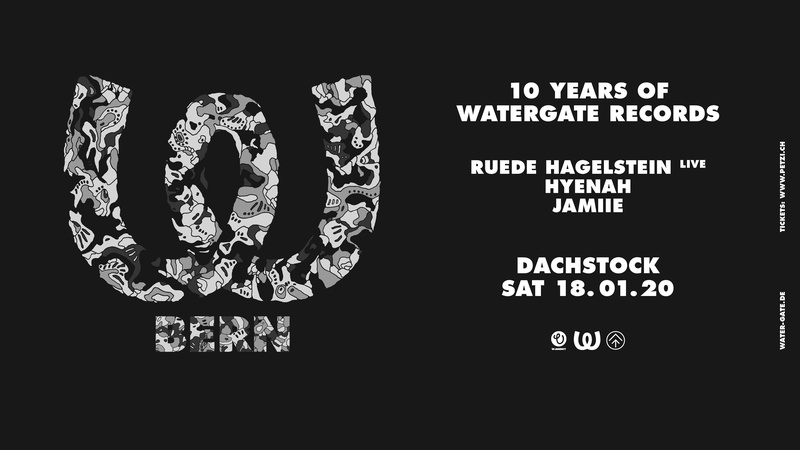 RUEDE HAGELSTEIN live
Ruede Hagelstein is a German producer, singer, songwriter, and DJ. He was raised in the suburbs of Berlin and later moved to the capital at the age of 20. He sang in a choir, tortured his guitar, and dreamed of having a rock star career. Instead, he started his DJ career in the late-nineties at the renowned Berlin club Tresor.

While his DJing career progressed, Ruede was also an editor for
various nightlife and music magazines: Groove Magazin, FLYER Magazin, PRINZ Magazin. His time spent as an editor brought him closer to the heart of the dance music scene, which led him to co-found restrealitaet.de - a Berlin-based web platform covering the local underground Techno scene. In 2006, Ruede earned an Audio Engineer Degree at the SAE Institute and became a resident DJ at Watergate, one of Berlin's most popular clubs.

The first tracks Ruede produced got signed by big labels such as Kitsune, Eskimo, and Cocoon. Soon, Ruede found himself co-producing with other major artists, composing music for commercials, and scoring "The Wyld," one of Europe's biggest musical productions. He now has numerous releases that are housed on labels like Watergate Records, Upon You, and Souvenir. He is also widely known for his remixing
skills, which have been requested by powerhouse record labels like Get Physical Music (Germany), Bedrock (UK), Culprit (US), Suara (Spain). Parallel to his electronic music career, Ruede has formed an indie-electronica band called "Ruede Hagelstein & The Noblettes" and founded his own mixing studio in Berlin, where he works with diverse artists like the Adana Twins, Move D, Tiefschwarz, and many more...
HYENAH
"I don't care about how much money you make. I don't care about what you own. I don't care if you are fat or skinny. I don't care about the color of your skin, about if you are black, white or yellow. I don't care if you are gay, straight or something in between.

I care about what you have to offer. That's what is important to me.
What we all have to offer is what is important. Our positive vibes, our warmth, our respect for each other, our love. Right here and right now. Not a click away.
That's why I do what I do. I want you to come together. I want us to RISE. That's my mission.
It is not about my face. It is about us."
Visit HYENAH's official website
JAMIIE
Navigating through the genres of electronic music and African inspired house music, Berlin based JAMIIE is dedicated to take the audience on a journey, to connect them, to make them feel the groove and power of music with her eclectic sets. Born to a German mother and a Nigerian father, the love for ancestral grooves was handed to her on a silver platter. As a little girl she enjoyed dancing to the sounds of afro beat pioneers Fela Kuti, Tony Allen and Sonny Okuson on the parental terrace in Surulere, Lagos/Nigeria.

In the 1990's her love for electronic music enflamed when she accidentally tuned into "The Steve Mason Experience" on BFBS Radio. She was immediately fascinated by the energy of the early house and techno music and started to record the shows on tape for her classmates. But it wasn' t until decades later that the late bloomer found her calling in expressing her passion for music through djing.

"It all started with a party of friends, where I hit the start and stop bottom, putting some of my favorite tracks on the decks, from hip hop to house over dancehall to afro beats. The place was cooking and I was fueled by this exuberant and vigorous energy. Music is such a powerful tool. When it speaks, our emotions listen. It has been known to humans in all times and in all cultures. Music crosses boarders and builds bridges on so many levels. Everyone can participate".

When joining the RISE collective, an African inspired event and record label based in Berlin who are holding down showcases from Europe to Africa as well as a monthly event at Watergate to represent the African house sound to the German techno capital, JAMIIE found the perfect home and platform for her artistic calling in this diaspora.