DARKSIDE - VIRUS RECORDINGS
Süsser die Trommeln und Bässe nie klingen: Die Darkside hat ihre ganz eigene Samichlaus & Schmutzli-Tradition, die uns in der kalten Jahreszeit alljährlich eine wuchtige Portion NEUROFUNK vom Feinsten beschert: Das legendäre Duo ED RUSH & MC RHYMETYME von VIRUS RECORDINGS besucht die Hauptstadt und hat eine Menge basslastige Gschänkli im Sack! Gut 20 Jahre sind seit dem bahnbrechenden LP-Erstrelease "Wormhole" vergangen und nachwievor sind die Überväter des dark-techy Drum&Bass mit Labelpartner OPTICAL auf dem ganzen Globus unterwegs und prominenter denn je. Local support aus Bern gibt es vom Darkside-Resident DEEJAY MF, welcher seit 1992 hinter den Decks steht, dem vielseitigen United Tribes-Urgestein TONI B und dem langjährigen Producer-Schwergewicht DAYNI aus Luzern, der seine Tracks unter andem auf BTKs Dutty Audio und dem Schweizer Label Demand Records veröffentlicht. Unterstützung am Mic erhalten sie vom energetischen MC STONE von Neurocide aus Fribourg.

Lineup:
Ed Rush (London)
MC Rymetyme (London)
Deejaymf
Toni B
Dayni
MC Stone
Saturday 29 December 2018
Dachstock – Bern
Doors open at:
23:00
Event starts at:
23:00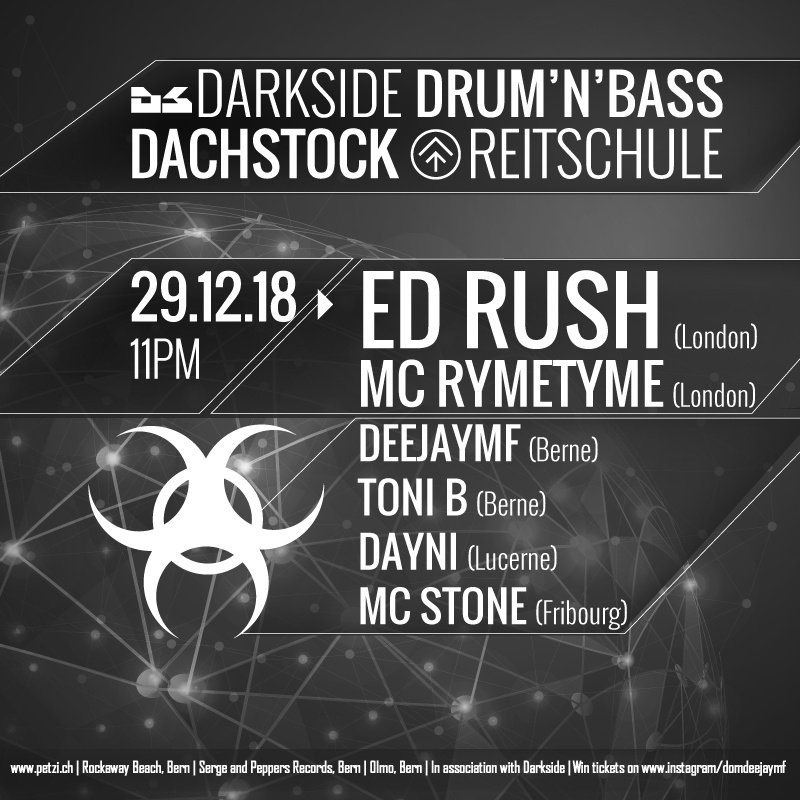 ED RUSH
There aren't many artists who can claim to have changed the face of a genre of music, let alone to have changed that face more than once. Ed Rush, however, is an exception to that rule. Ever since his first production outings alongside his neighbour (and infamous owner of No U Turn Records), Nico Sykes, Ed Rush has consistently proven he has the ideas and attitude to transform drum & bass and is never afraid to push that infamous envelope.

Moving through the sounds of hip hop and electro in his early musical years, like many of his peers Ed Rush became fascinated with the burgeoning rave scene that was blowing up his hometown of London. The breakneck speed chopped breakbeats and piles of sub-low bass appealed greatly, and it wasn't long before Ed Rush had convinced Nico to work on some tracks with him. The first result of their production partnership, of course, being the immense 'Bludclot Artattack', an out-and-out darkside jungle classic which marked a new era in hardcore, pushing the music into the realms of what we now know as drum & bass.
Visit ED RUSH's official website
MC Ryme Tyme
Ryme Tyme's life, as well as his career, has been steeped in music. From early influences from hip hop and funk, Ryme Tyme has progressed through a range of musical endeavours, all of which have added to his unique knowledge and experience of the game. Ryme Tyme got his start early, when, at the age of 12, he and his brother became the youngest members of one of Jamaica's biggest dance crews, The Smugglers, which also began his love for being an emcee.

Upon returning to London, he enveloped himself in the electro and hip hop scenes, which led to his immersion in the rave scene. From house parties, to his first booking at Club Sterns in Worthing during the era of hardcore in 1990. Ryme expanding his sound through pirate radio stations such as Touchdown FM, then Don FM, and finally the mighty Kool FM.
Visit MC Ryme Tyme's official website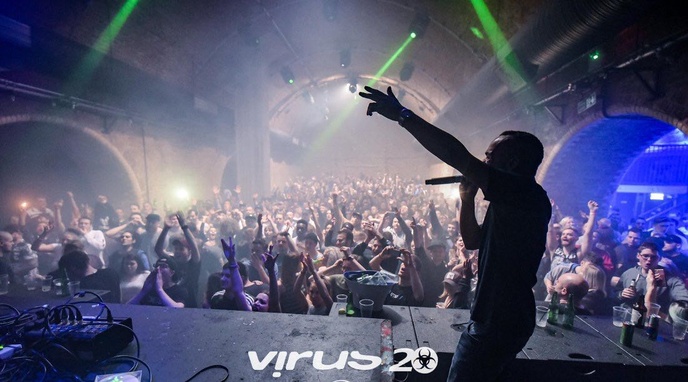 Deejaymf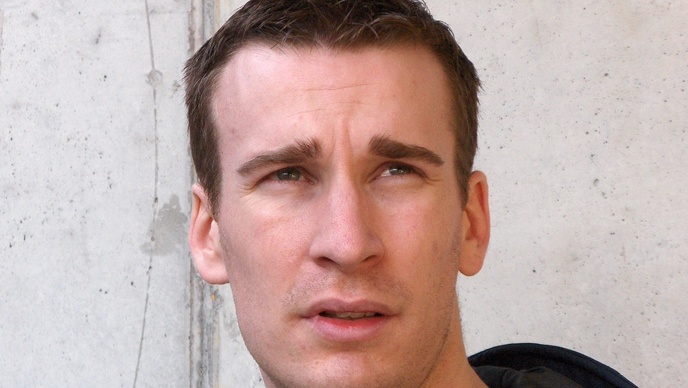 TONI B