SAVE THE RAVE! 2k18
RIZZOKNOR (Zürich / BAR25, RAVE U R)
BRITTA ARNOLD (Berlin, Kater Blau)
KREDO (Bern / Kinphonic Rec.)
DJ FÜSCHTU (Bern)
HEITERES TANZEN (Bern)
OVERDÖSED (Bern)

Normale Feste in Mehrzweckhallen, zweckfremde Dinger im Mehrwegbechern und weltfremde Agenda in der Bürokratenbirne: All diese Dinge frustrieren den Raver. Und also gehört das Fest der alternativen Nachtleben-Kultur und ihrer Liebhaber*innen auch Zweitausendplus19 mal wieder gerettet – wär ja gelacht.
Im Laboratorium der Liebe gilt das gelebte Experiment. Lass darauf tanzen zu dieser seltsamen Rokk'n'Roll-Gruppe im Afterhourdunst, lass darauf tanzen viermalvier, live gereicht oder von den Platten, Tsüri, Bærn, Berlin – vereint in Neonlicht und Schatten. Ein Labor den Spinnern, ein Labor für uns, ein Labor synthetisch-frenetisch und blasphemisch-chemisch. Dann ein Theater obendrein, hörstu, all das kann das Raven sein.
Denn eine gute Idee ist exotherm. Und besser als nur heisse Luft. (txt:mrk)
Organized by: Dachstock
RIZZOKNOR
10 years ago they discovered an untouched path at the intersection of electronic and psychedelic spheres. Like modern alchemists, Daniel, Dominique and Georg have cemented their unique brand of krauttechno over years of live experiments. Composition is seamlessly mixed with improvisation, repetitive riffs are entangled to modulating melodies that build towards epic musical gestures. Each performance transports the audience on a new trip towards the same destination: frenetic dancing. Rizzoknor's sound is largely inspired by heroes from the past (Grateful Deads, Pink Floyd, Led Zeppelin, J.J.Cale and Johnny Cash) and was matured in an effervescent contemporary scene of electronic musicians between Zurich and Berlin.
Visit RIZZOKNOR's official website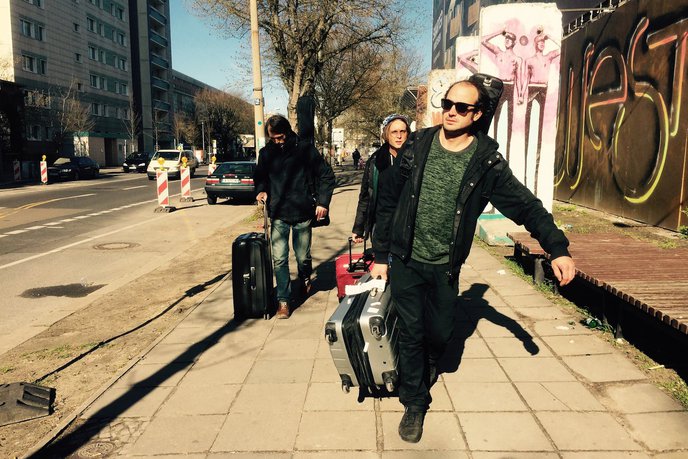 BRITTA ARNOLD
When you hear creeping high hats, hypnotic beats and a pop of acid, chances are you're hearing Britta Arnold from the console of her musical spaceship. Straightforward and distinctively poised, her unique blend of beats makes for a milkshake of cosmic potency. For this elegant fire red, her pledge to break norms and find the hottest music on the block has gained her quite the following and opened up a fantastic world of people, places and special moments. Since co-founding the Bar25 label in 2006, her nights are spent playing gigs anywhere between Asia, America and Europe, while many of her days are spent in the studio where she dreams up new music. She has released on Katermukke and Heinz, remixed tracks by 'It boys' Satori and Stavroz, and been remixed by the likes of Claude VonStroke and Ruede Hagelstein. Aside from this, her new musical project 'Britta Unders' with Amsterdam based Unders, is adding even more magic to her minutes. They are playing sets from sundown to sunrise together all over the world but also started a new label Happy Camper, this will be launched January 2018 with artists as Mira, Be Svendsen, dOP and Noraj Cue. When not doing these things, she's probably planning her GRRR Mit BRRR party — a celebrated event at the Berlin club, Kater Blau. A born and bred Berliner who never had to learn how to be one, Britta reflects the city in which she still calls home: a little edgy, a little down to earth and always filled with artistic ambition. Having once lived in a caravan with her cat 'katuscha' on the grounds of the Bar25, she takes this Happy Camper vibe with her into every space she enters, whether the club, the festival, the studio or a walk through her home town. With the support from her global electronic family pushing her in the right direction and a naughty box of tunes on her back, the future of this lady from outer space only goes from strength to strength. So get your space suit on and go intergalactic roaming with your best friends and lovers. Do it to the hypnotic and wired sound of Britta Arnold.
Visit BRITTA ARNOLD's official website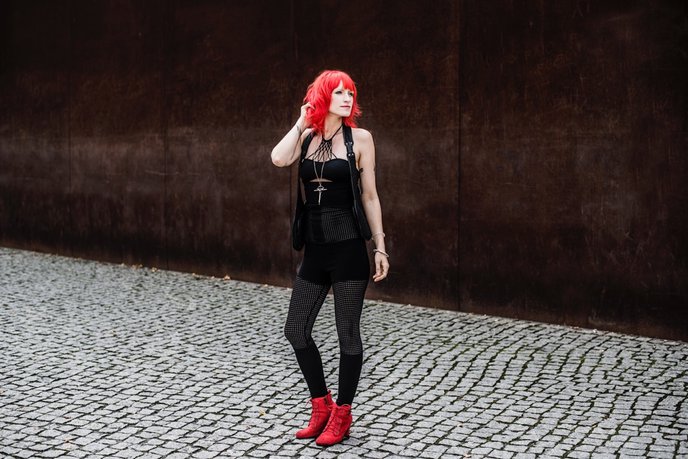 KREDO
Kredo is a breakthrough artist hailing from Bern, Switzerland. He has played piano for more than fourteen years and has been recording for three years. Beginning with experimenting on drum machines and outboard synths, Kredo has found a new calling in digital EDM production. After trying many genres, he found his passion in hardhitting Electro and Dubstep. His production skills are continually growing, and he claims that he finds new challenges beneficial to his workflow. 2011 saw Kredo reach out to many independent labels. He's done many collaborations with various artists in the community. As of 2012, he has found home with Absence Agency. He has since put out a debut EP, Agony, which is available as a free download through his Facebook profile. Kredo is a bolt of fresh energy in the contemporary EDM scene, and his productions and performances are sure not to be missed.
Visit KREDO's official website