End Hits // DÄLEK (Union City) / Support: REINDEER
Pioneers of alt hip-hop, Dälek features Rapper/Producer MC Dälek, Producer/Live Electronics Mike Manteca, and Turntabilist DJ rEk. With roots in the mid-90's DIY scene, Dälek has been delivering ground breaking albums for over 20 years and a pioneering force in crossing over the boundaries of music genres. They have encapsulated fans and critics across all genres, garnering fans and accolades from the Hip-Hop, Electronic, Indie, Metal, Shoegaze, Jazz and experimental communities. This openness has also been present in collaborations with artists such as legendary Krautrock band Faust and industrial leaders Techno Animal. Dälek's discography has been impressive, starting with a strong debut in Negro Necro Nekros and reaching a peak with the monumental Absence. Noise and extravagance on the forefront, they began presenting a mellower perspective with Gutter Tactics before going on hiatus. In 2017 they returned to Ipecac Recordings for their new album release "Endangered Philosophies"
Organized by: Dachstock
DÄLEK (Union City)
Veteran agitators Dälek have never been ones to stick within the rigid parameters of genre. A group who seemingly hold the utmost contempt for conservative expectations regarding form, instead pioneering a volatile and timeless strain of hip-hop, drawing as much from My Bloody Valentine as Public Enemy. These practitioners of noise fuelled depravity are back with a whole new album, entitled Endangered Philosophies, their follow up to last years Asphalt for Eden, scheduled to come out via Ipecac Recordings September 1 2017. With Dälek, the flow has often been usurped by scorched textures, the product of synthetic decay, themes flitting from pungent political rage through to outright Dionysian frenzy. On Endangered Philosophies, the lyrics are more focused and at the forefront than ever before, and MC Dälek's new experiments with rhyme styles and flow makes for a vital concoction. There's no doubt about it, Endangered Philosophies is a work of guttural catharsis, it is a call to arms… Within the context of the current political landscape, the title Endangered Philosophies certainly brings to mind pertinent issues of moment, notably the rampant rise of anti-intellectualism, as well as the all too rapid erosion of genuinely progressive values in the face of fearful reactionary forces. In MC Dälek's own words…"Endangered Philosophies is a very introspective record about very external forces. This isn't about one listen... it's about your evolving perception when you immerse yourself in the layers of sound and words. Endangered Philosophies is a record about the RIGHT NOW and yet will resonate differently each time it is listened to, in a word....timeless." (Rolling Stone) Dälek have been prone to outbursts of pummeling extremity, yet their sound is anything but one dimensional; with viscous dark-ambient soundscapes congealing atop their incessant beats, a dual focus on brute force and disembodied unease. And still, Dälek continue to evolve, as Endangered Philosophies takes a new approach to source material, this time making use of material sent to them by people they have friendships and relationships with including Toronto based Metz, manipulating and sampling in the same way they would use record samples. Although the group have evolved their sound over the years, they continue to collaborate with the same behind the scenes crew who've been with them from the beginning, from the production team, to the artist behind the cover art (Paul Romano). Endangered Philosophies captures so many elements of past Dälek but in a new way, easily matching any of their earlier output in terms of sheer unbridled intensity. At this stage in their career they have elevated to a frankly peerless stature; with next year marking 20 years since the release of their pivotal debut album Negro Necro Nekros, and having previously collaborated with a host of like-minded visionaries; ranging from Krautrock legends Faust, through to the 90s electronic act Techno Animal - a similarly restless project comprised of Kevin Martin (The Bug, King Midas Sound) and Justin Broadrick (Godflesh, Jesu). Fans will be thrilled - but not too surprised - to discover that with Endangered Philosophies, the group once again charge forward, continuing to resist stagnation in all of its forms.
Visit DÄLEK (Union City)'s official website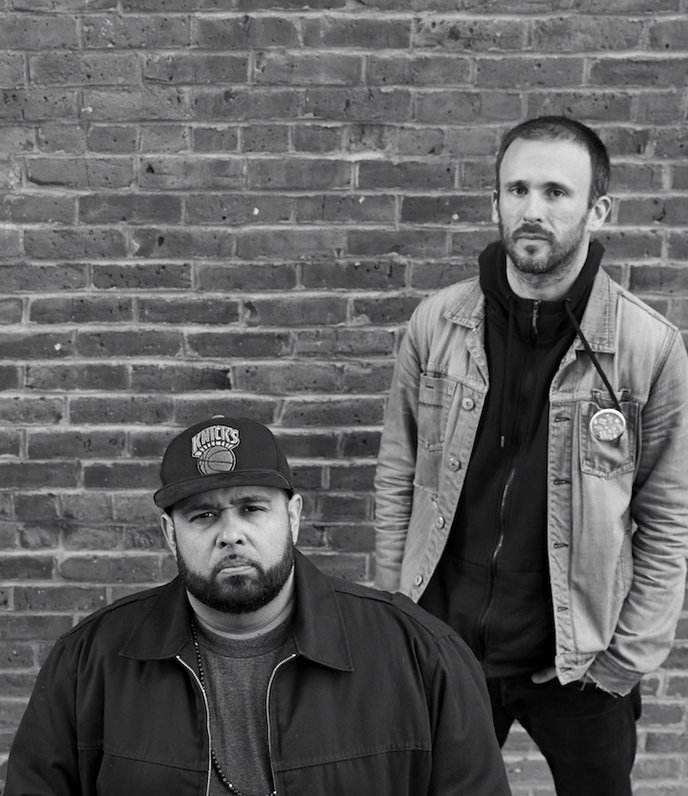 REINDEER
James Reindeer (b. 1978) is an English writer, producer, rapper, and multidisciplinary artist best known for his acute, anguished rap vocals, post-rock sonic landscapes, and multifarious use of sampled field recordings. Emerging over a decade ago as a voice of the disaffected indie-rap underground, Reindeer first found critical acclaim alongside longtime friend and musical collaborator fbcfabric for their highly-celebrated conceptual album, 'It's Not Who You Know, It's Whom You Know' (fbcfabric & reindeer). Since then he has written and recorded twelve albums across a variety of genres from hip-hop to doom-drone to spoken-word, and collaborated with such greats as Son Lux, 2econd class citizen, Egotronic, Frittenbude, and a raft of others, as well as having performed live across North America and Europe, from the Kaos Network, LA, to Glastonury Festival, UK, sharing stages with the likes of Thesis Sahib, Rappin' 4 Tay, Bleubird, Gong, and Ceschi, to name but a few. Originally hailing from South London, UK, Reindeer has spent many years living and travelling throughout the Western Lands, from Ostrava to Oakland, Leipzig to Brighton, and is currently between residences somewhere in the Surrey Hills. Reindeer's first official full-length solo debut record, Field Reports from the Western Lands (Anette Records No. 13.), a 16-track limited edition double vinyl in 4 parts, releases on March 30th, 2018, complete with a 44-page illustrated lyric booklet and digital download code.
Visit REINDEER's official website