FEAR FACTORY (US) + BUTCHER BABIES (US) + IGNEA (UA) + GHOSTS OF ATLANTIS (UK)
Fin des préventes : 18h15 le jour du concert. Selon disponibilité, des billets sont en vente au prix de la caisse du soir à 40 chf.
Age minimum : 16 ans ou accompagné d'un représentant légal.
___

DISRUP TOUR
Friday 17 November 2023
Les Docks – Lausanne
Doors open at:
19:00
Event starts at:
19:30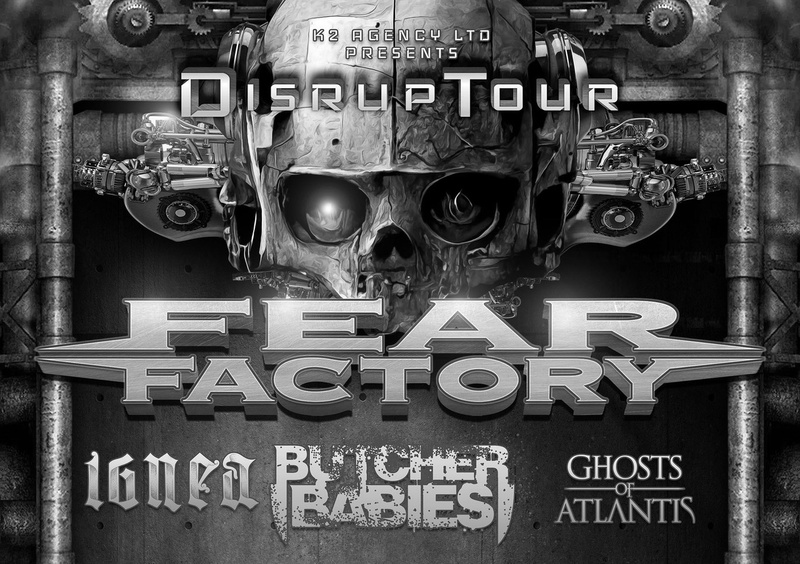 FEAR FACTORY (US)
Un torrent de sons déferle dans nos oreilles ; d'une batterie sans cesse en action à des riffs alarmants, Fear Factory bouscule les conventions du heavy metal en explorant leur univers aux limites toujours repoussées : post-apocalyptique, dystopique, une chose est sûre, à travers leurs morceaux cathartiques, le quatuor reflète depuis plus de 30 ans les incertitudes d'un monde en quête de sens.

-

A torrent of sounds bursts into our ears; from a constantly active drum kit to alarming riffs, Fear Factory shakes up the conventions of heavy metal by exploring their universe at the limits of ever-pushing back: post-apocalyptic, dystopian, one thing is certain, through their cathartic songs, the quartet has been reflecting the uncertainties of a world in search of meaning for more than 30 years.
Visit FEAR FACTORY (US)'s official website
BUTCHER BABIES (US)
Au premier rang, deux frontwomen à l'énergie inépuisable, Heidi Shepherd et Carla Harvey. À leurs côtés, un band de musiciens tout autant passionnés : guitare, basse et batterie viennent parfaire l'équation de Butcher Babies. En live, l'intensité est décuplée : le groupe américain, habitué des tournées et des foules à rassasier, sait hypnotiser son public dès les premières notes pour ne plus le relâcher.

-

In the front row, two frontwomen with inexhaustible energy, Heidi Shepherd and Carla Harvey. Alongside them, a band of equally passionate musicians: guitar, bass and drums complete the Butcher Babies equation. Live, the intensity is tenfold: the American band, used to touring and filling crowds, knows how to hypnotize its audience from the very first notes - and then never let go.
Visit BUTCHER BABIES (US)'s official website
IGNEA (UA)
IGNEA n'a pas peur de mélanger les styles. De leur metal mélodieux ressort des éléments épiques, lyriques, voire même folk et électroniques. Leur dernier album, "Dreams of Lands Unseen", raconte la vie de la photographe ukrainienne Sofia Yablonska ayant voyagé à la rencontre de tribus aux quatre coins de monde au 20e siècle. L'histoire se mêle aux sons, le récit aux riffs, pour un résultat ensorcelant.

-

IGNEA is not afraid to mix styles. Their melodious metal has epic, lyrical, even folk and electronic elements. Their latest album, "Dreams of Lands Unseen", tells the story of Ukrainian photographer Sofia Yablonska who travelled to meet tribes around the world in the 20th century. The story blends with the sounds, the narrative with the riffs, for a bewitching result.
Visit IGNEA (UA)'s official website
GHOSTS OF ATLANTIS (UK)
Le metal symphonique de Ghosts of Atlantis nous plonge dans une atmosphère sombrement mystérieuse. Originaire du Suffolk, comté connu pour ses histoires de sorcellerie, le groupe semble imprégné d'ambiances énigmatiques remplies de légendes. On peut facilement s'imaginer parcourir des vestiges à la tombée de la nuit, les murmures du vent en accompagnement. Sur scène, le show est à la hauteur du son : puissant.
-

The symphonic metal of Ghosts of Atlantis plunges us into a darkly mysterious atmosphere. Hailing from Suffolk, a county known for its stories of witchcraft, the band seems to be steeped in enigmatic atmospheres filled with legends. It's easy to imagine walking through the remains at dusk, with the wind whispering in the background. On stage, the show matches the sound: it's powerful.