SOILWORK (SE) + KATAKLYSM (CA) + WILDERUN (US)
Fin des préventes : 17h45 le jour du concert. Selon disponibilité, des billets sont en vente en caisse du soir à 40 chf.
Age minimum: 16 ans ou accompagné d'un représentant légal.

__
Tuesday 21 February 2023
Les Docks – Lausanne
Doors open at:
18:30
Event starts at:
19:00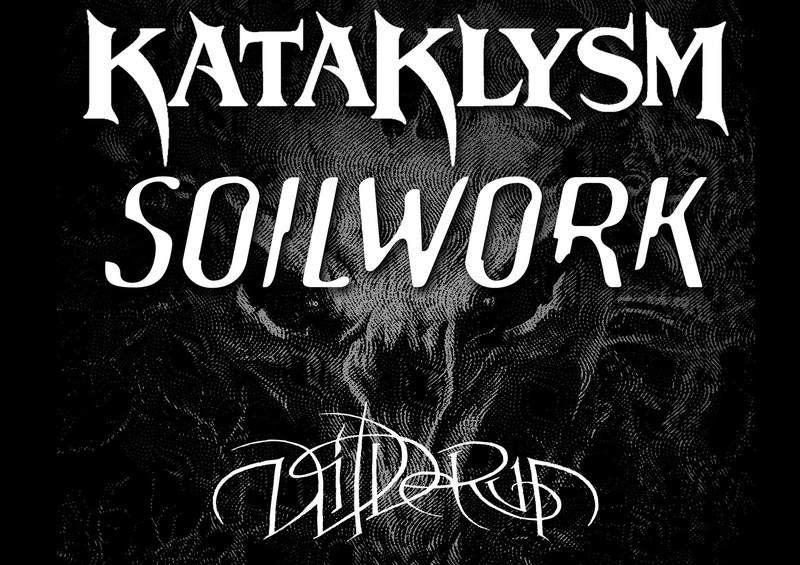 SOILWORK (NO)
Quand l'épique côtoie l'intense, le résultat sonne comme Soilwork. Un death metal qui vous prend aux tripes, puissant tant dans les rythmes effrénés de la batterie que dans les explorations vocales incessantes. Leur dernier album - le 12e déjà ! - fut créé sur la longueur. Autour du thème de l'abandon - « Övergivenheten » - il traverse des pensées sombres, d'autres plus claires, avec toujours en toile de fond cette unique relation au son qui connecte et guérit.

-

When epic meets intense, the result sounds like Soilwork. A death metal that takes you by storm, powerful both in the frantic rhythms of the drums and in the incessant vocal explorations. Their latest album - the 12th already! - was created over a long period of time. Around the theme of abandonment - « Övergivenheten » - it goes through darker and lighter thoughts, always with that unique relationship to sound that connects and heals in the background.
Visit SOILWORK (NO)'s official website
KATAKLYSM (CA)
Un cataclysme est un bouleversement de la surface de la Terre ; une terrible catastrophe. Dans le monde du death metal, c'est plutôt une explosion de profonde joie, d'extase même, à l'écoute du fameux groupe canadien. Cela fait 30 ans que Kataklysm sillonne les routes pour transmettre son monde mélodique, énergique, furieusement passionné. Après leur venue en 2017, on se réjouit de voir notre scène trembler à nouveau sous leurs pieds.

-

A cataclysm is an upheaval of the earth's surface; a terrible catastrophe. In the world of death metal, it's more like an explosion of deep joy, ecstasy even, when listening to the famous Canadian band. Kataklysm has been touring for 30 years, transmitting their melodic, energetic and furiously passionate world. After their visit in 2017, we'll be delighted to see our stage shaking again under their feet.
Visit KATAKLYSM (CA)'s official website
WILDERUN (US)
Les morceaux de Wilderun pourraient être ceux d'une série historique grandiose. Les voix - souvent multiples - résonnent à l'unisson, accompagnées de riffs de guitares magistraux. Puis, l'aspect folk prend le dessus, le ton se calme, l'acoustique retentit. L'imaginaire s'active, nos sens se réveillent. Embarquez pour un voyage aussi varié qu'étonnant, entre fantastique et réalité.

-

Wilderun's songs could be those of a grandiose historical series. The voices - often multiple - resonate in unison, accompanied by masterful guitar riffs. Then the folk aspect takes over, the tone calms down, the acoustic reveals itself. The imagination is activated, our senses are awakened. Embark on a journey as varied as it is astonishing, between fantasy and reality.
Visit WILDERUN (US)'s official website