WAKANDA BEATS
DIRON ANIMAL live (Angola / Soundway Records)
CALABASH SOUND SYSTEM (Zürich / DJ ROCKSTEADY, DJ STICKY JONES)
DISELECTA ENERGY (Bern, Gambia)

Dancing Crews: JIGGYSOUL Crew (Zürich) & RAGGASOUL Crew (Biel, Bern)

Host: MAINBOOGY (Bern, Nigeria)

Gleich zur ersten Runde WAKANDA BEATS im Stock ballert uns die urban-afrofuturistische Clubmusikserie einen «Big Name» der Szene um die Ohren. DIRON ANIMAL, das Ghettokid aus Luanda tanzt an – wer hat ihn am PALÉO verpasst? – mit seinem Signature Sound, dem «Rockuduro».
Was das ist? Long story short: Calypso, Soca und etwas Afrobeat-Perkussion treffen auf Techno, late 80's in Angola war das und seither «Kuduro». Die Schmiere erweitert um Rockriffs, etwas Hip-Hop and there we go, «Rockuduro» und der Tanzboden brennt!
Aus lokalen Agglomerationen stehen zur Unterstützung am DJ-Mixer das CALABASH SOUNDSYSTEM aus Züri und DISELECTA ENERGY aus Bern bereit, zudem gibt's Performances der Dancing Crews JIGGSOUL (ZH) und RAGGASOUL(BE) and this jam will be hosted by: MAINBOOGY.
Na dann, boa sorte! (txt:üd)
Organized by: Dachstock
DIRON ANIMAL
Born and raised in Cazenga, Angola Diron Animal quickly learned to make the most out of everything that surrounded him. Imagination is an essential tool in learning how to make sandals out of old tires or creating toys out of cans. Although he moved to Portugal ten years ago, the lessons imparted there will never leave him, and you may hear great influence on your album. Diron Animal 's involvement in music started early on: he was part of an Angolan traditional music group, followed by a capoeira group, then a hip hop project, and finally landing on Kuduro, with The Shine, and its consequent rock varation, with Throes + The Shine. The Last band created three albums that took them all around Europe. Now has come the time go to solo. By taking the lone path, he's opening himself up to a world of them centered around dance music: from afro-beat to afro-house, from hip hop to funk, from kuduro to coupé décalé. ALONE is an album that marks this new phase. Its purpose is clear: to put all of its listerners in a frenzied dancing state by summoning the animal inside that can only be brought out by the frenetic sounds of dance music. Everything set to the vision of Diron Animal, the boy who became a man but will always use his imagination to create amusement with whatever is available around him.
Visit DIRON ANIMAL's official website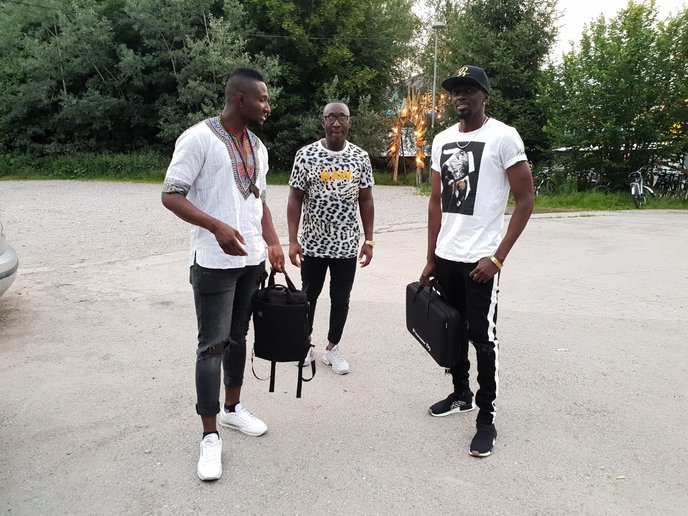 CALABASH SOUND SYSTEM
A modern Africa

Calabash has for ambition to Show through music and art another side of Africa.

A continent which is still unknown and often misunderstood from people, and unfortunately sometimes even from Africans themselves.

Calabash is like another bridge to the motherland. Or a window to a world with enormous resources which is constantly evolving and currently at a turning point in its history. The explosion of the west african music in the last decade it's a good representation to it.

It's not about praising any kind of supremacy but in the opposite highlight the readiness of a continent for working together and for being an active part of this ''mixitude'' which is the new reality of our modern world.

Striving for the best of different worlds! It is like finally live the dreams of our forefather , embracing Africa and Europe like two pieces of the five stone building up the new world. And as usual music and art are leaders in this quest.

Even through hard times Africa always had something to give. Exemplary strength of men and women, life philosophy, history, spirit or just this unique way to express emotions and experiences though Art.

And here we are calabashners, supporting an inspiring Africa and present with no arrogance but unashamed, what she is now, and what she has to give to the world.

Calabash - "An african ting" in the puzzle of human cooperation.

The world is welcome!
Visit CALABASH SOUND SYSTEM's official website